Recently, I experienced a nasty run-in of hair loss from stress.
One day, I thought nothing of my full head of hair and the next I was staring a definitive bald spot the size of my finger tip smack dab in the middle of my beloved bangs.
In fact, the onset came so quickly that at first sight, I wondered if it had been there all along.But alas, a cross reference of selfies on my phone revealed that in fact, this bald spot was indeed a new development.
Let's take a look shall we?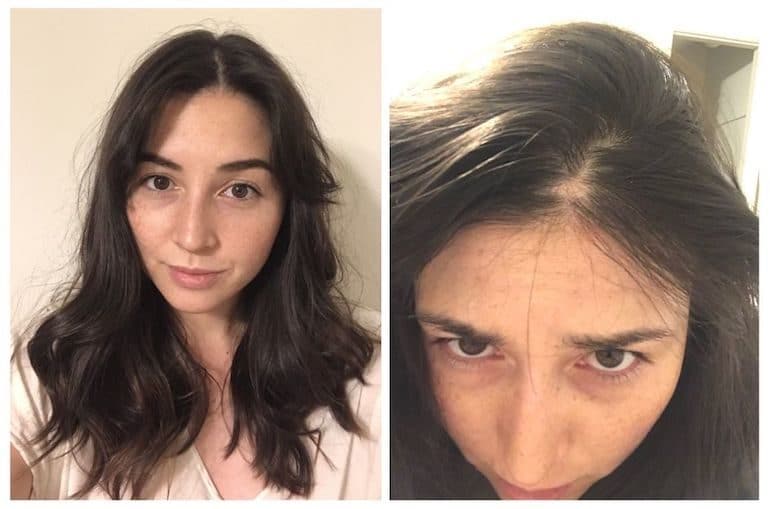 You can see the same part with a very stark difference. Shockingly, these photos were taken just a few weeks apart. What was with this weird little bald spot?
Visiting the Dermatologist
The only thing from throwing me into a full-fledged panic at this discovery, was recalling a friend who had been through the same situation. Upon her advice, I booked an emergency appointment with my dermatologist.
My dermatologist assured me that hair loss from stress is quite common. He diagnosed my bald spot as alopecia areata. This is when your hair falls out in round patches. According to my derm, it can happen when we go through a particularly stressful short period of time. On-going chronic stress, he warned, can lead to general thinning hair loss all over the scalp.
I thought back to recent events… Work was great! Home, good! But sure enough, I'd had my heart broken the month prior. You know the kind, right? One of those "I think this might finally be it! But wait… Oh no, this is that again. Oh, wait no, this is even worse than that again…" situations that can throw you into a downright existential dating crisis.
Yup, definitely hair loss from stress.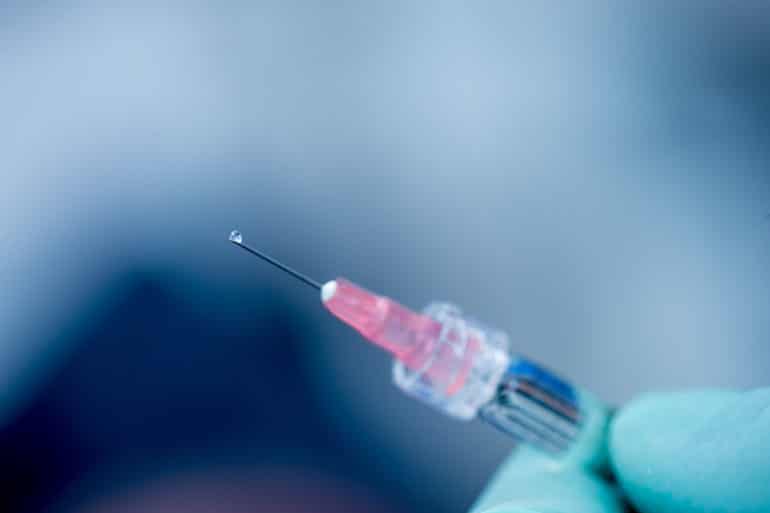 Getting Injections
To treat my alopecia areata my dermatologist suggested monthly injections of corticosteroids to help stimulate hair growth in the area. The needle was teeny tiny, and I could barely feel a pinch as it went in. My friend who'd gone through the same experience had received the same, and saw visible improvements after just one shot.
I, on the other hand, returned three months in a row to dutifully get my head pricked. After the third month, I still couldn't tell if it was slowly filling in from the sides – or if I was just a lost cause.
Seeking Alternate Solutions
After lamenting to my friend about the slow progress of my treatments and the escalating cost, I brainstormed more aggressive approaches. Should I increase my dosage? The frequency of treatments? What about applying castor oil to my hair nightly? Or massaging the area twice a day to stimulate my hair follicles?
Instead, my friend offered a revelatory solution.
"Why don't you just chill and leave it alone? If stress is the cause, all of this sounds stressful to keep up with. Maybe just let it fill in, in its own time."
Huh. Leave it alone? Was it really that simple?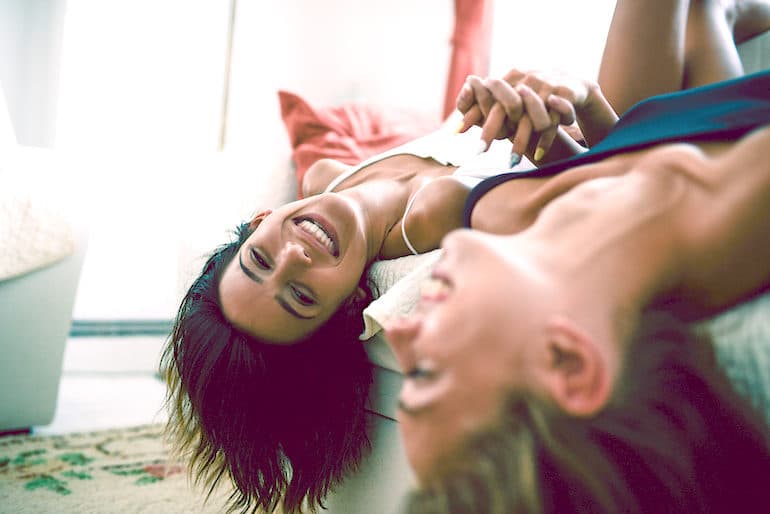 Treating Stress From The Source
Wary of this advice, I decided it was at least easy and affordable to try. So I cancelled my next appointment at the dermatologist and didn't buy any special oils or scalp massage tools.
Instead, I went out with friends. I worked out. I took my vitamins. I watched movies. I cried when I felt like crying. I made an effort to do five minutes of breathwork and ten minutes of meditation in the morning. But I also slept in when it felt good. I went to therapy. I meal prepped and packed my lunches. Basically, instead of busying myself with doctors appointments and endless home solutions, I lived my life.
And you know what? The next month, I did see new hairs start to come in. And more, the month after. Until finally, the spot went away completely.
In Summary
We tend to push aside our feelings in a busy world. It's easy to do because no one else can really see what's going on under the surface. That is, until they can. In my case, the bald spot brought my sad, stressed feelings to a head – literally.
The irony here is when our stress affects our looks, we only get more stressed. This then creates a vicious cycle. While topical treatments may work for some to stop the cycle, for me, it came down to self-acceptance.
I decided that heartbroken or not, bald spot or not – I was already a perfect and complete person, exactly as I was.
And eventually, my hair caught back up with the happiness I recovered inside.
The post Here's What Finally Helped My Hair Loss From Stress appeared first on HUM Nutrition Blog.